First and foremost; THANK YOU for your business...
We appreciate our customers, and their business. We know that we are only as good as the "last transaction." And, when we receive superior service, value, or quality from our vendors, partners, employees, and contractors, we always want to let them know that they are appreciated. So, when we receive references and gestures of appreciation from our customers, we REALLY APPRECIATE that they have gone the "extra mile" to recognize our efforts. It means a great deal to our whole team, and, motivates us to even greater efforts to provide a superior service. Thank you.
Keep scrolling down the page to read some nice comments and testimonials from our clients...
If you would like to upload a reference or a "pat on the back" for our team, please feel free to upload your reference letter with the upload link below:
Customer references and comments:
FilmNation Entertainment
FilmNation almost needs no introduction... as one of the world's largest "independent" motion picture producers, and, distributors, pretty much everyone has either seen one of their films, or, has certainly heard of them! It was a privilege for us to build the software that manages the global distribution of their film properties. We really enjoyed working with such a  professional, and, talented group of people. Get out to see one of their films if you can!  www.filmnation.com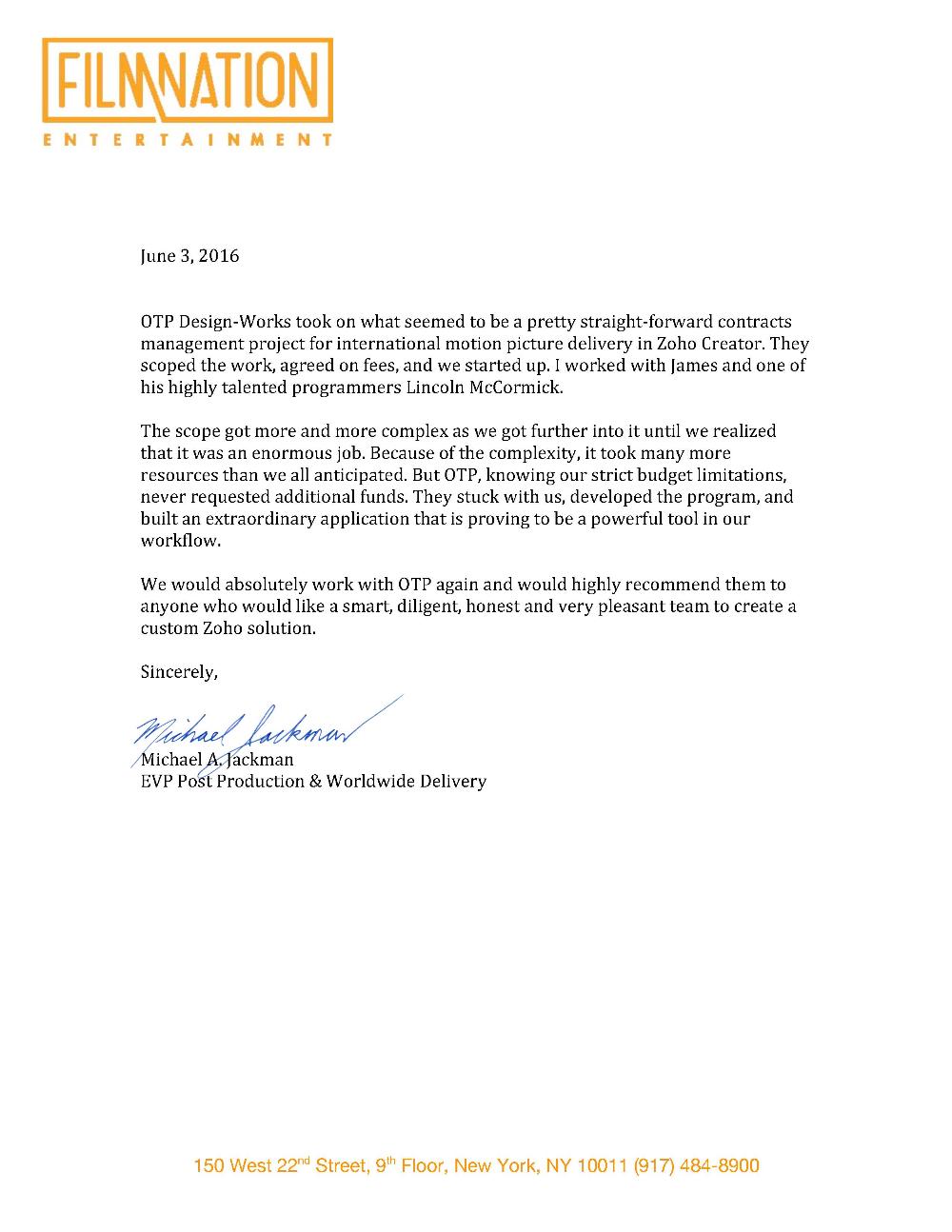 Telga Corporation
The good folks at Telga offer marketing and sales services to "energy and utility sector" companies. They operate throughout the United States, providing employment opportunities in over 10 cities. If you call in to Telga as a job applicant, the entire process - from interview scheduling to on-boarding - willb emanaged by the Zoho Creator software suite we built for them. Good people. Great company. www.telga.net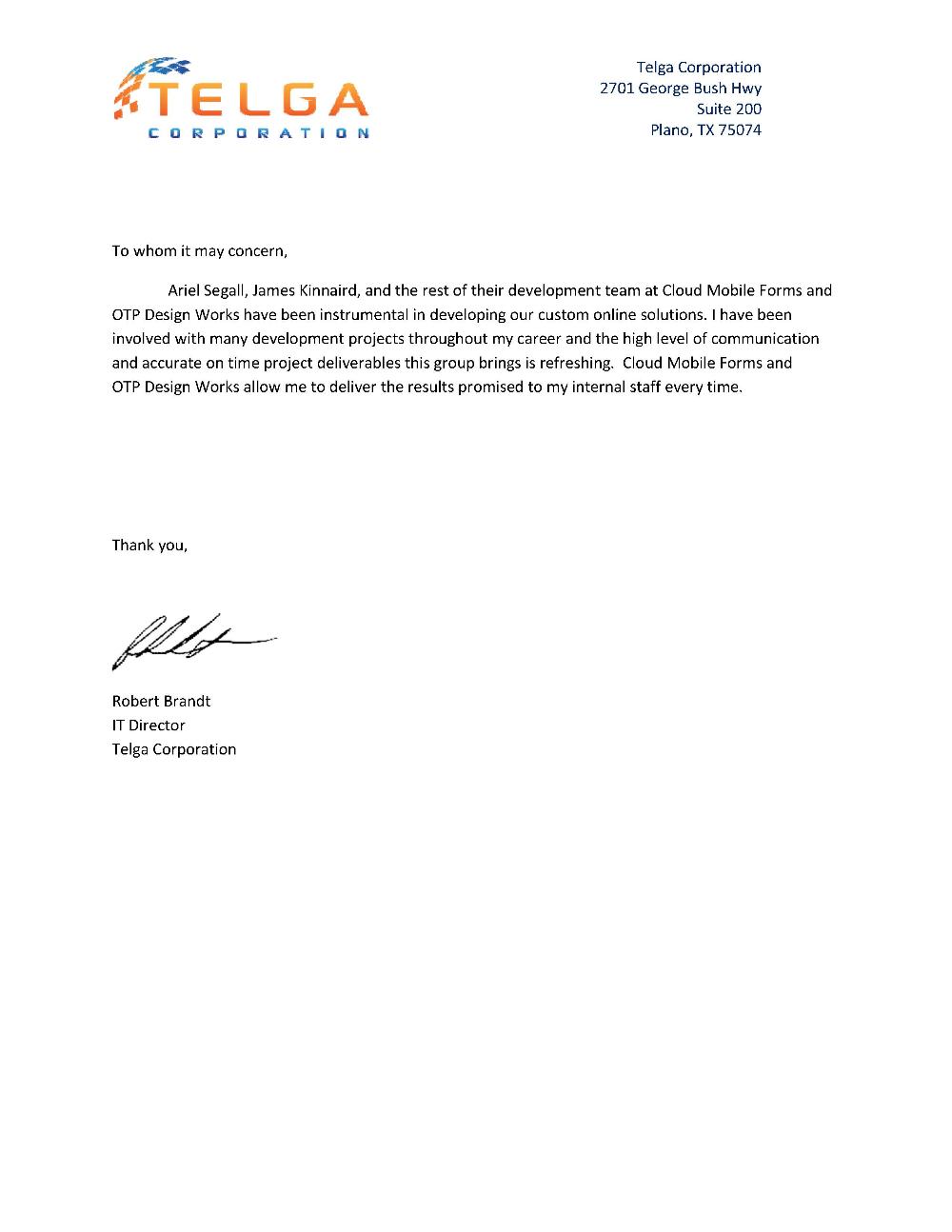 LeadsDate
Leadsdate is based in Israel, and, facilitates meetings between companies in different countries or region, often with government involvement, to promote cross-border trade, commerce, and, development. Leadsdate is a leader in their field, and, are very good people - with a very laudable mission. 
Give your friends at Leadsdate a call if you ever need any B2B meeting and trade promotion solutions. www.leadsdate.com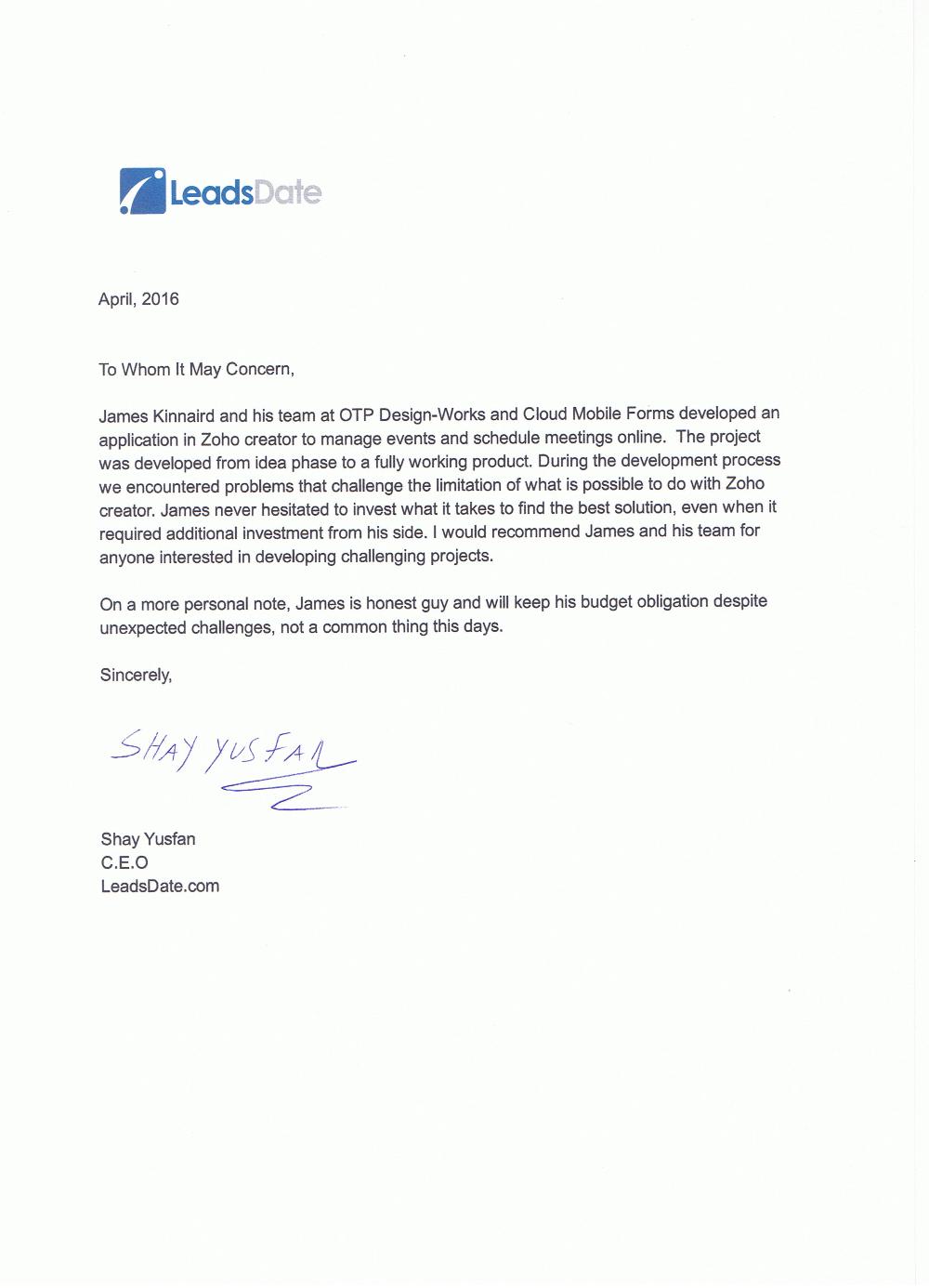 We really don't need to introduce THIS client; they are known worldwide for providing an exceptional casual dining experience and great food. With hundreds of restaurants all over the world, we were very fortunate to have been selected as their developer of choice for building a new global restaurant development platform and database. This is an exceptional organization, and, if there is a TGI Fridays location near you, we urge you to give them a try - you will no-doubt be back! To find the closest restaurant, visit: TGI FRIDAYS WEBSITE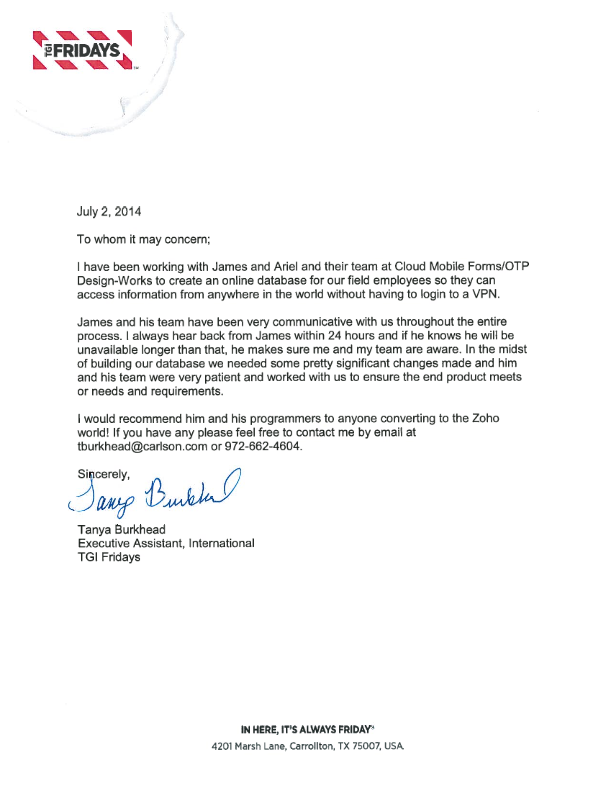 OTP Design-works recommendation letter from TGI Fridays - www.otpdesign-works.com
iEnteprises is not only a client of Cloud Mobile Forms / OTP Design-Works, but, they are one of the leading mobile device and content-management software purveyors in the industry. iEnterprises creates software which is capable of linking to back-end CRM and other "Enterprise" class software packages, and, delivering the mission-critical content in those databases securely to employees' mobile devices in a managed environment. They are VERY GOOD at what they do, and, provide cutting-edge solutions to businesses all over the world. We were privileged to assist them with their own ZOHO CRM and ZOHO CREATOR implementation and integration for their licencing management requirements. They are great people to work with, and are very knowledgeable. If your organization has contact / content management needs on mobile devices, be sure to contact them: http://www.ienterprises.com/contact-us.html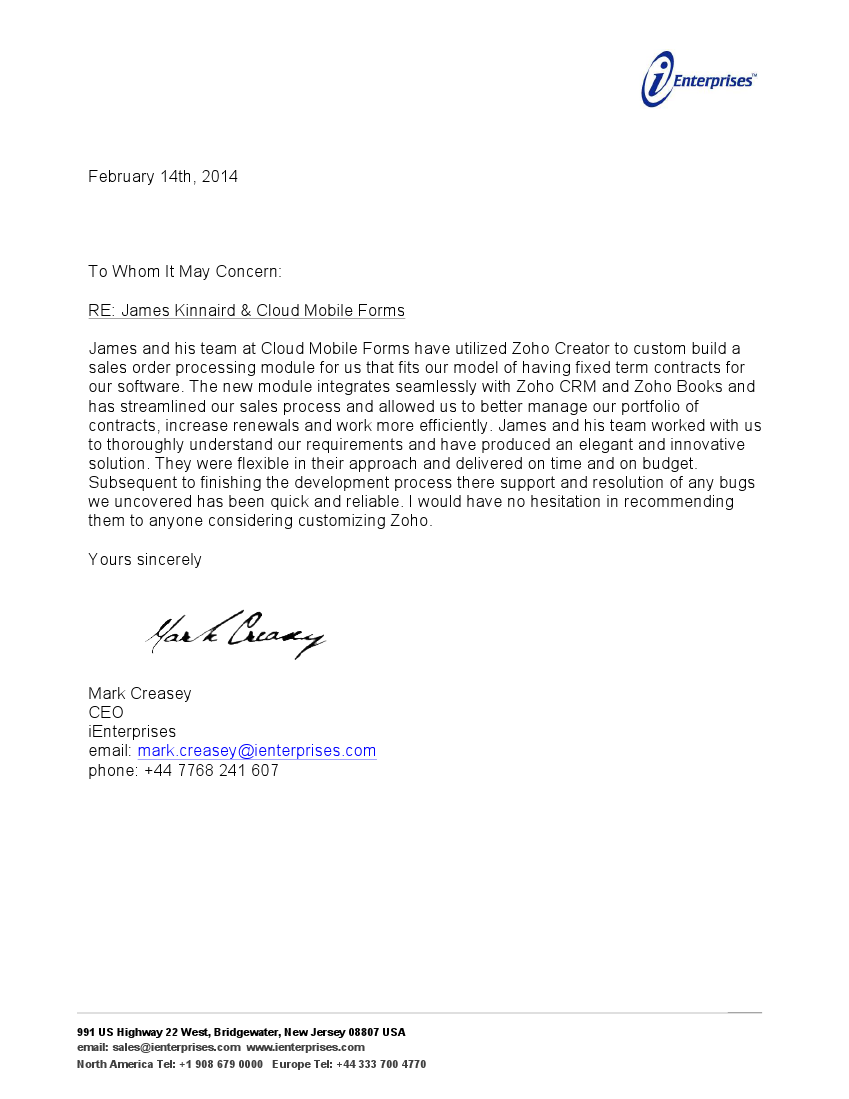 OTP Design-Works and Cloud Mobile Forms Reference letter from iEnterprises
The Outdoor School
The Outdoor School and Camp Champions offer educational and corporate retreats at AMAZING camp properties in Texas. We were thrilled to be able to spend some time with them while training their staff, and, working on their sophisticated Zoho application - which runs most of their business. The people at Outdoor School are simply amazing; and so are the facilities. If you are looking for an outdoor group camp experience, this  is definitely the place to be!  www.outdoorschool.com
Fluid Mobility, Inc. (QBit GPS Software)
Fluid Mobility is one of Canada's most respected GPS tracking and fleet management providers, offering GPS tracking solutions ALL OVER THE WORLD.. Their QBit tracking system is one of the finest on the market, offering a FULLY FEATURED GPS tracking application that rivals, and surpasses, many of the "largest" GPS tracking companies in the world. Their user interface is "second to none" and is very easy to use. And now, QBit is available on Android mobile devices! Not only is Fluid Mobility one of the best and most reliable GPS platforms available, but, they are also one of the least expensive! A fully featured GPS tracking solution for under $20 per month... come on! If you need a GPS tracking solution, or, a fleet management application, we hope you will call our friends (and customers) at Fluid Mobility first. You can find them at: http://www.fluid-mobility.com/ or by phone at: +1-647-347-6216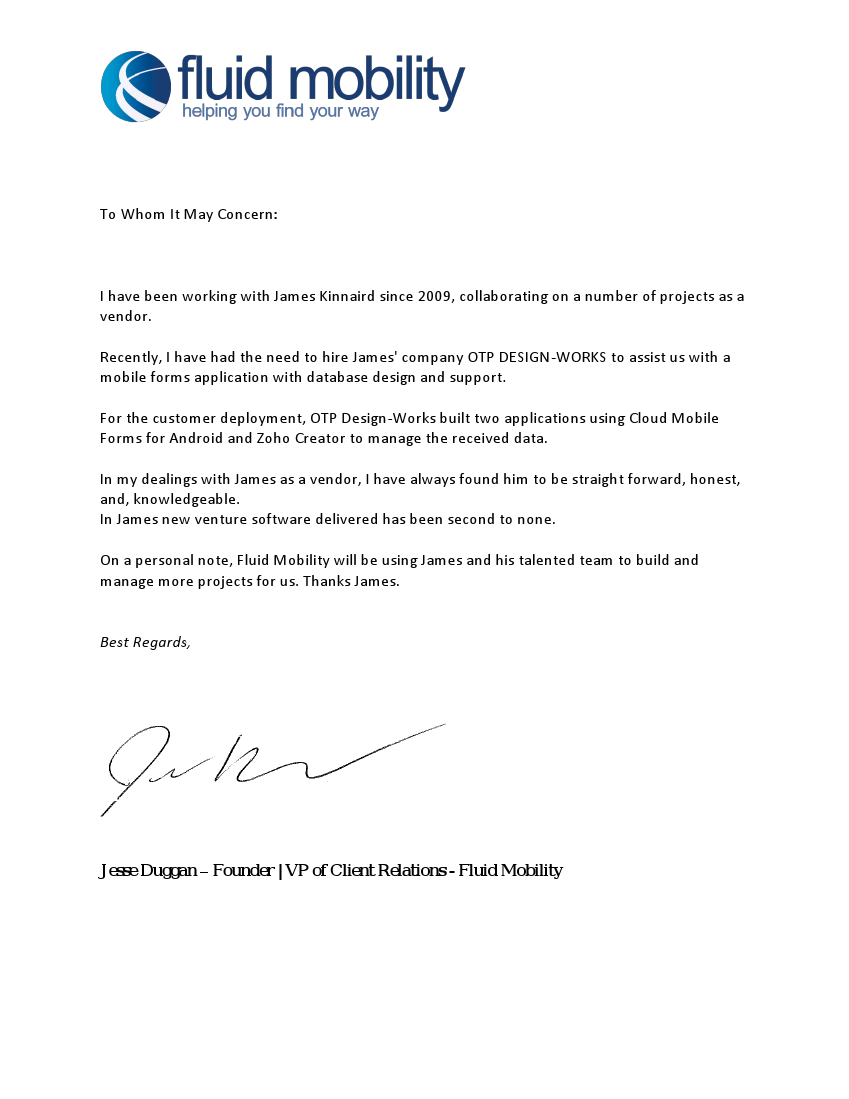 The Deck Store is Canada's foremost backyard decking, and "leisure living" installer. The Deck Store is THE industry innovator in composite decks, and in building beautiful residential and commercial outdoor living spaces. They are, by far, the largest in Ontario for deck design, build, and supply, with 4 stunning showrooms for the convenience of their customers; Oakville, Toronto, Milton & Oshawa. The Deck Store only sells the very best products on the market, and, can rightfully be proud of their service. If you need a deck, pool, hot tub, awning, pergola built, or, artificial turf, building materials, or any other outdoor "living space" work or products, we urge you to call The Deck Store at: +1-866-618-4154 / +1-905-337-7707, or, visit their website at: www.deckstore.ca